Ocean Mist TM-1200
The TM-1200 series of foggers all have the same housing, control system and other components with the exception of the mist head and transformer. The base unit can be purchased with one mist head which will provide the same output as a TM-300 fogger, the TM-1200-1 It can be supplied with 2 mist heads and 2 transformers, the TM-1200-2 right up to the maximum capacity TM 1200-4 with 4 mist heads & transformers.
TM 1200-1 Maximum output 5.5kg fog per hour
TM 1200-2 Maximum output 11.0kg fog per hour
TM 1200-3 Maximum output 16.5kg fog per hour
TM 1200-4 Maximum output 22.0 kg fog per hour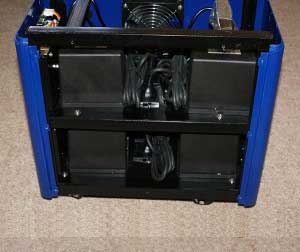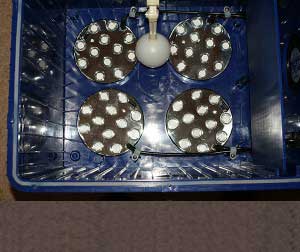 Features of your TM 12000 include:
An automatic water level control and also low water protection. If the water supply is interrupted the ultrasonic transducers will be shut off to prevent any possible damage.
The humidistat included with this unit can be set to control the humidity at any level between 20% and 95% relative humidity.
Ceramic discs are inexpensive and can easily be replaced at the end of their service life. Discs will operate for a minimum of 3,000 hours continuous operation. Since the unit turns on and off to maintain humidity these discs should last for at least 3 years.
There is a safety overflow outlet (grey connection) to prevent damage to the electronics should the water inlet float valve ever fail.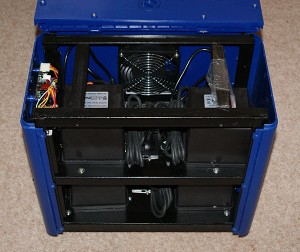 Control Unit – The same for all TM -1200 models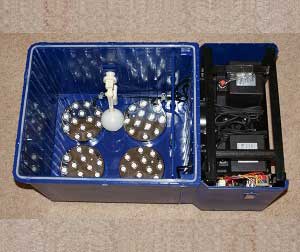 Model TM-1200 Specifications:
240V Australian plug.
Fog output of up to 22kg per hour
Air quantity of 480m3 per hour
Fog outlet size 110mm
Inlet water pipe 1/2 inch bsp
Dimensions: 740 x 430 x 430mm
Noise: less than 36db
Can maintain up to 95% relative humidity
Built in casters
Manual and automatic operation